Swachh Bharat Abhiyan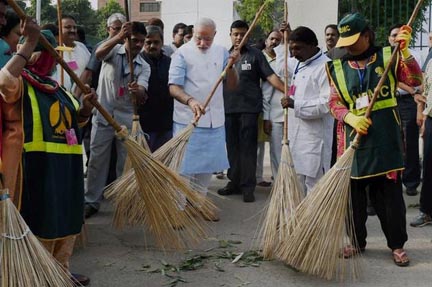 Swachh Bharat or Swachh Bharat Abhiyan (Campaign Clean India) is a national level campaign by the Government of India covering 4041 statutory towns to clean the streets, roads and infrastructure of the country.
Swachh Bharat

Date

2 October 2014

Location

India. New delhi

Organised by

Narendra Modi
Government of India

Participants

Anil Ambani
Sachin Tendulkar
Ruby Yadav
Salman Khan
Priyanka Chopra
Yog Guru Baba Ramdev
Kamal Hassan
Mridula Sinha
Shashi Tharoor
Arvind Kejriwal
The team of TV series Taarak Mehta Ka Ooltah Chashmah
Amitabh Bachchan
Hrithik Roshan
Aamir Khan
Saina Nehwal
This campaign was officially launched on 2 October 2014 at Rajghat, New Delhi, where Prime Minister Narendra Modi himself wielded broom and cleaned a road. The campaign is India's biggest ever cleanliness drive and 3 million government employees and schools and colleges students of India participated in this event. The mission was started as a tree with EACH ONE of the nine personalities nominated by Narendra Modi to in turn nominate nine other people and so on. It has been carried forward since then with famous people from all walks of life joining it.
History
Swachh Bharat Abhiyan was announced by Prime Minister of India Narendra Modi on Indian Independence Day & launched on 2 Oct 2014, Gandhi Jayanti. On this day, Modi addressed the citizens of India in a public gathering held at Rajghat, New Delhi, India and asked everyone to join this campaign. Later on this day, Modi himself swept a parking area at Mandir Marg Police Station followed by pavement in Valmiki Basti, a colony of sanitation workers, at Mandir Marg, near Connaught Place, New Delhi.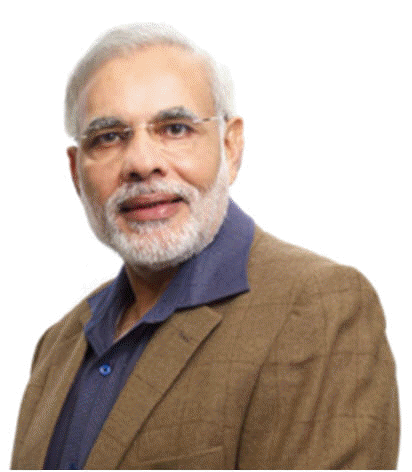 The Prime Minister of India Hon'ble Shri Narendra Modi
On 2 October, Anil Ambani, an Indian industrialist and a participant in this event, told in a Statement—
I am honoured to be invited by our respected Prime Minister Shri Narendrabhai Modi to join the "Swachh Bharat Abhiyan". . . I dedicate myself to this movement and will invite nine other leading Indians to join me in the "Clean India" campaign. . .
Indian President Pranab Mukherjee asked every Indian to spend 100 hours annually in this drive. This campaign is supported by the Indian Army, Border Security Force, Indian Air Force and India.
Objectives
This campaign aims to accomplish the vision of 'Clean India' by 2 October 2019, 150th birthday of Mahatma Gandhi and is expected to cost over <![if !vml]>
<![endif]>62000 crore (US$10 billion). The campaign was described as "beyond politics" and "inspired by patriotism".
More than 3 million government employees and schools and colleges students of India are going to participate in this event.
First nominees
Modi selected 9 notable public figures to propagate this campaign. They are:
Anil Ambani

Baba Ramdev

Kamal Hassan

Mridula Sinha

Priyanka Chopra

Sachin Tendulkar

Salman Khan

Shashi Tharoor

The team of TV series Taarak Mehta Ka Ooltah Chashmah
Indian film actor Aamir Khan supported and encouraged this initiative and told that he would be happy if he is invited into this campaign. Urban Development Minister, M. Venkaiah Naidu, picked up the broom to clean cyclone-hit port city of Visakhapatnam in southern State of Andhra Pradesh, as part of Prime Minister Narendra Modi's cleanliness campaign.
Swachh Bharat Run
A 'Swachh Bharat Run' was organized at the Rashtrapati Bhavan on 2 October 2014. According to a Statement from the Rashtrapati Bhavan around 1500 people participated and the event was flagged off by President Pranab Mukherjee . Participants in the run included officers and sice, as well as their families.
Swachh Bharat Apps
Many independent app developers came up with ideas to support the mission using mobile technologies. Times of India published an article on how "Desi companies beat Facebook in 'Swachh' apps race".
Vocative global wrote about this new phenomenon and one such app in an article "This Indian App Could Change How People Talk To Their Government"
Nirmal Bharat Abhiyan
Nirmal Bharat Abhiyan (NBA) is a Community-led total sanitation program initiated by Government of India in 1999. It is a demand-driven and people-centered sanitation program. It evolved from the limited achievements of the first structured programme for rural sanitation in India, the Central Rural Sanitation Programme, which had minimal community participation. The main goal of Total Sanitation Campaign is to eradicate the practice of open defecation by 2017. Community-led total sanitation is not focused on building infrastructure, but on changing cultural norms to prevent open defecation. In Maharashtra where the program started more than 2000 Gram Panchayats have achieved "open defecation free" status. Villages that achieve this status receive monetary rewards and high publicity under a program called Nirmal Gram Puraskar. The campaigning ambassador for Nirmal Bharat Abhiyan is Vidya Balan. Government of India gives 10000 rupees to every family to construct a toilet.
Background
Government started the Central Rural Sanitation Programme (CRSP) in 1986 primarily with the objective of improving the quality of life of the rural people and also to provide privacy and dignity to women.
The concept of sanitation was expanded to include personal hygiene, home sanitation, safe water, garbage disposal, excreta disposal and waste water disposal. With this broader concept of sanitation, CRSP adopted a "demand driven" approach with the name "Total Sanitation Campaign" (TSC) with effect from 1999. The revised approach emphasized more on Information, Education and Communication (IEC), Human Resource Development, Capacity Development activities to increase awareness among the rural people and generation of demand for sanitary facilities. This enhanced people's capacity to choose appropriate options through alternate delivery mechanisms as per their economic condition. The Programme was implemented with focus on community-led and people centered initiatives. Financial incentives were provided to Below Poverty Line (BPL) households for construction and usage of individual household latrines (IHHL) in recognition of their achievements. Assistance was also extended for construction of school toilet units, Anganwadi toilets and Community Sanitary Complexes (CSC) apart from undertaking activities under Solid and Liquid Waste Management (SLWM).
To give a fillip to the TSC, Government of India also launched the Nirmal Gram Puraskar (NGP) that sought to recognise the achievements and efforts made in ensuring full sanitation coverage. The award gained immense popularity and contributed effectively in bringing about a movement in the community for attaining the Nirmal Status thereby significantly adding to the achievements made for increasing the sanitation coverage in the rural areas of the country.
Encouraged by the success of NGP, the TSC is being renamed as "Nirmal Bharat Abhiyan" (NBA). The objective is to accelerate the sanitation coverage in the rural areas so as to comprehensively cover the rural community through renewed strategies and saturation approach.
Objectives
Bring about an improvement in the general quality of life in the rural areas.
Accelerate sanitation coverage in rural areas to achieve the vision of Nirmal Bharat by 2022 with all gram Panchayats in the country attaining Nirmal status.
Motivate communities and Panchayati Raj Institutions promoting sustainable sanitation facilities through awareness creation and health education.
To cover the remaining schools not covered under Sarva Shiksha Abhiyan (SSA) and Anganwadi Centres in the rural areas with proper sanitation facilities and undertake proactive promotion of hygiene education and sanitary habits among students.
Encourage cost effective and appropriate technologies for ecologically safe and sustainable sanitation.
Develop community managed environmental sanitation systems focusing on solid & liquid waste management for overall cleanliness in the rural areas.
Activities
Major activities Covered under Nirmal Bharat Abhiyan are,
Construction of Individual House Hold Latrines for which the enhanced incentive for individual household latrine units has been extended to all Below Poverty Line (BPL) Households and Above Poverty Line Households (APL) restricted to SCs/STs, small and marginal farmers, landless labourers with homestead, physically handicapped and women headed households.

Convergence with Mahatma Gandhi National Rural Employment Guarantee Scheme for additional financial assistance.Provision of sanitation facilities in Government Schools and Anganwadis in Government buildings.

Assistance to Production Centres of sanitary materials and Rural Sanitary Marts, Provision of construction of Community Sanitary Complexes.

Solid and Liquid Waste management (SLWM) to be taken up in project mode for each Gram Panchayat (GP) with financial assistance capped for a GP on the basis of number of household to enable all Panchayats to implement sustainable SLWM projects.

Information Education Communication (IEC) activities for sustainable demand generation for sanitation facility.
Provision of extensive capacity building of the stake holders like Panchayati Raj Institutions (PRIs), Village Water and Sanitation Committees (VWSCs) and field functionaries for sustainable sanitation.